Little Cayman Escape
You know that remote island wonderland you always see in films and read about in books? Here it is…..At only ten miles long and one mile wide, there may be more peace and quiet per-square-inch on Little Cayman than anywhere else!

Join Sea Dog Divers at Little Cayman Beach Resort and experience valet diving the way it was meant to be! Comfortable accommodations, chef-prepared meals, and just steps away from the dive shop with daily morning & afternoon boat dives.
With little commercial development, the island beckons ecotourists seeking wildlife encounters, not urban wild life. It's best known for its spectacular diving in world-renowned Bloody Bay Marine Park, including Bloody Bay Wall and adjacent Jackson Wall. The ravishing reefs and plummeting walls encircling the island teem with more than 500 different species of fish and more than 150 kinds of coral. Jacques Cousteau hailed the area around the little island as one of the three finest diving spots in the world.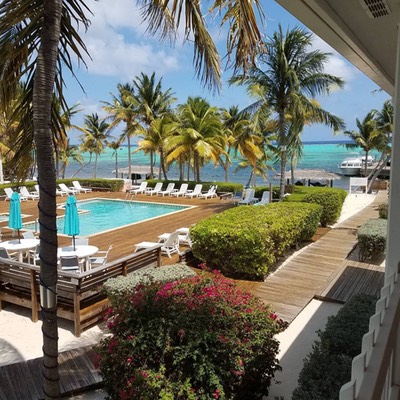 The atmosphere of Little Cayman is one of undiscovered charms and secluded paradise. The moment you step off the plane, you'll think: I've found something really good—something that not too many people know about. And relatively speaking, it's true: Little Cayman, the smallest of the three islands that make up the Cayman Islands, is home to some 200 year-round residents. While it's not necessarily a secret, especially among the serious diving community, it feels mostly undeveloped and untouched by the type of tourism that abounds on larger, more well-known Caribbean islands. Locals are friendly, it's hard to go more than a few steps without encountering wildlife, the white sand that encircles the little island is pristine and uncrowded, and Bloody Bay Marine Park is known to many as the "mecca of the Caribbean."

Little Cayman is famous for scuba diving, consistently ranked among the world best, especially for wall diving. The 3000 ft. contour line around the island is a mere mile offshore! Little Cayman's Blood Bay Wall Marine Park is particularly famous with expert divers because of its many sections are so severe drops as to be essentially vertical drops. For less adventuresome divers and snorkelers, Little Cayman offers over fifty unique dive sites of all skill level.

Bloody Bay Wall Marine Park is one of the most popular dives in existence, after all. With a dramatic drop-off over 5,000 feet, Bloody Bay Wall gives divers the opportunity to glimpse Cayman's underwater life in a dramatic backdrop. Just 100 feet below the surface, the island's native sharks, stingrays and turtles can be viewed against the stunning backdrop of Bloody Bay Wall.

During the 16th and 17th centuries, Little Cayman was believed to be a popular hangout for pirates and explorers. The British Navy wanted to wipe out piracy so it sent a fleet of ships and soldiers to Little Cayman. When the pirates saw the approaching fleet they boarded their ships to escape, but it was too late. A big battle took place in the bay that is now known as Bloody Bay. The pirates were defeated and it is said that "the bay ran red with pirate blood". And that's how Bloody Bay supposedly got its name!
Reef Divers provides the personalized valet dive service that many of our guests don't even know they want until they experience it. With 25 years of experience and being the only dive operator on all three Cayman Islands - no one knows or does it better than they do. They take the work out of your diving, by handling the heavy lifting and care of your boat dive gear - from your first dive with them through your last dive (unless you prefer to do it yourself). They rinse, dry, and store your BCD and regulator daily, so they're set-up and ready for your next day's diving. The only finger you'll have to lift is the one to point out your gear as you relax in the boat, ready to go diving.                                                               
Space for this adventure is limited, so contact us ASAP with questions and to arrange your deposit & reserve your spot! 
email: Sea Dog Divers
We strongly recommend trip insurance & dive accident insurance!