By Sieg Stahl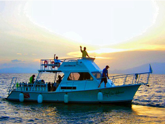 When the British Virgin Islands come up in conversation, most people immediately think about sailing. After all, the BVI has enjoyed a stellar reputation as a premier sailing destination for many years and is considered by most sailors to be the charter boat capital of the world. And as a long time sailor myself, I would totally agree!
However,  having just returned from 15 glorious days in the BVI, when it comes to Scuba Diving destinations, although the British Virgin Islands may not quite have the same long standing reputation that sailors have come to appreciate, over the years, the BVI have really come into their own as an outstanding destination for great Caribbean diving. Whether you enjoy diving reefs or wrecks, the BVI offers an incredible array of diving diversity. When they describe the BVI as "nature's little secret' it is definitely true - especially below the surface!
General Info
Comprised of approximately 60 islands and islets that are nestled relatively close together, most are well within the range of daily dive boats. The BVI is host to a number of dive operators that offer everything from the typical morning, afternoon & night excursions, to rendezvous diving, and gear rental & services that cater specifically to the needs of those sailors who also enjoy exploring the underwater world of the British Virgin Islands. There are many land based resorts as well as one or two liveaboard dive boats that provide great dive opportunities in the BVI.
After leading 16 dive groups to the BVI over the years, I still appreciate the amazing variety of underwater topography that the BVI offers, and in fact, that wonderful diversity of underwater experiences is exactly keeps me going back! From reefs, walls, ledges, sea mounts & outcroppings, to some fascinating shipwrecks (including the well-known RMS Rhone which sank in 1867 and is arguably the signature wreck of the Caribbean), the BVI has much to offer and has become a worthy diving destination with many regular visitors from both the USA and Europe.
Those that are familiar with the US Virgin Islands will find a remarkable difference and change of pace once they cross over to the British side. Life in the BVI tends to be much more relaxed, low key and enjoyable….especially after you've enjoyed your first "Pain Killer" or "Dark & Stormy" along with a West Indian Roti……to this day there are no "fast food" restaurants in the BVI.
Dive Conditions
There are approximately 80 marked dive sites in the waters of the British Virgin Islands and the National Parks Trust has placed permanent mooring balls on them to avoid anchor damage to the precious reefs. If diving on your own rather than with one of the local dive operators, I recommend that you do a little additional research so that you fully understand the protocol when using the various types of mooring balls. 

There really isn't much shore diving opportunity in the BVI so one way or the other, you'll be diving from a boat. While Tortola is by far the largest island in the archipelago, it doesn't really offer many dive sites, so most of your dive adventures will take place around the other wonderful islands in the chain. As mentioned previously, the majority are all an easy boat ride away. That is actually one of the best features of diving in the BVI. Instead of diving just one island for a week, you are actually able to dive and enjoy a whole chain of islands….variety, variety, variety!
While many of the sites are well protected from wind and waves, some of the best underwater experiences I've had have come from diving on the more "exposed" sites when the conditions allowed. These sites are often in the gap between two nearby islands and can sometimes be subject to a bit of current & waves, so it generally pays to dive with the local operators who have the knowledge and experience to best judge the appropriateness of the weather & conditions. But when things are right, all I can say is wow!
The BVI is not known as a deep diving destination so it is a great choice for divers of all levels of experience. The depth for most dive sites ranges from about 30 to 85 feet, although you might need to bring a shovel to hit 85 feet. The British Virgin Islands are home to a nice variety of typical Caribbean marine life and an occasional surprise visitor, but no matter where you travel, it always makes sense to do a little homework to understand what fish and marine creatures you might encounter and which might be potentially harmful to you if you come in contact. As always, the best thing you can do for yourself is to develop good buoyancy skills and have a "look - don't touch" mindset.
Top Dive Sites (from the pros)
There are a number of good dive guides and books about diving in the British Virgin Islands, but anybody can read the guidebooks, so I decided to take a very different approach and provide you with an "insiders" perspective from dive pros that actually live and dive in the BVI every day!  As a frequent visitor and tour leader, I have made many great friends among the local dive professionals, so I conducted a survey of ten local dive pros to find out what sites were their personal favorites and offered the best dive experiences in the BVI. So I asked this simple question; "where do you like go to dive on your day off and why"
So here (in no particular order) are what some of the local dive staff consider to be the "Best Dives" in the BVI along with some of their candid comments:
Santa Monica Rock – "beautiful healthy corals and most often the chance at seeing larger marine life and sharks, the pinnacles at the end of the dive for the safety stop are sensational, there is always a great chance to see large pelagic species because of the surrounding blue water, always loads of fish including sharks and rays"
Painted Walls – "so beautiful and full of marine life, often see lots of small critters such as nudibranchs and baby 
Lobsters, and the shallow garden with painted wall tunnel is amazing, I've dived here so many times, because I love the 
Dramatic topography, the health of the reef and sponge life, and the incredibly beautiful pool in the shallows at the end"
Dry Rocks East - "a really nice dive, often see a shark or two to come up round the pinnacles to the shallows, beautiful pillar corals and abundance of juveniles, lovely dive"
The Wreck of the Chikuzen – "solitude, peaceful, and dramatic, wondrous dive; always see something big here like eagles rays, sharks, etc, not many people get the chance to venture out to this dive site because it's so far, something out the ordinary from everything else in the BVI, great chance to see the big stuff, because she's in the middle of nowhere and always has a serious amount of fish life"
Devils Kitchen – "gorgeous colors, critter central, love the underwater structures and so many hiding places for critters"
The Invisibles – "always blessed with eagle rays and sharks at this site, I'm a true lover of the open deep and this sight always offers an opportunity to see big stuff"
Joe's Cave – "beautiful cave, very dramatic for photography, nice healthy reef in the canyons approaching the shore"
Carvel Rock – "very healthy reef and an abundance of big fish and sometimes sharks"
Shark Point – "a great dive and often we see a few sharks here, lots of fish life, interesting and healthy canyons to swim through"
Thumb Rock – "always a favorite, combined with Vanishing Rock this makes a perfect two tank for me, great topography and lots of varied fish life"
Vanishing Rock – "so many fish, a videographer's dream, also pretty much guaranteed a nurse shark or a green moray hanging out under the ledge by the pillar coral, I love this dive because you can jump from Cooper Island straight to the dive site and have a great dive in just minutes" 
The Playground - "always a chance to see larger pelagic species, great fun to swim around boulder field"
Wreck Alley – "I love to search for the huge grouper & rays among these 4 wrecks, brilliant artificial reefs that will hopefully expand and become a dive that offers a great insight to the fish life of the BVI"
Twin Towers – "very cool, sometimes we see Devil Rays here"
Tobago Canyons – "it's a long way from anything and always produces an amazing dive"
The RMS Rhone – "amazing history and marine life, every single dive is different on this amazingly preserved wreck, it offers everything you could want in one dive site, I've done so many dives here, yet still not enough, this dive is the BVI; a very, very special dive and every diver should log this dive, always lots to see, no matter how many times you dive it, big fish, sharks, turtles, rays, morays, squid & lobsters, you can see them all here, it must be among the top ten wreck dives in the world, on special days the stern can be the best dive of the two, the wreck is filled with interesting artifacts plus the chance to see big stuff like sharks, eagle rays, and turtles, and with good air consumption, I like to take a peek around the corner and swim the canyons of Rhone Reef"
Dead Chest East, aka Coral Gardens – "shallow dive but thriving coral with loads of lobsters and big mushroom corals to meander in and out, often a very long relaxing dive"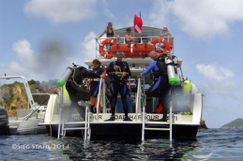 As an additional reference, I am including this link to what I consider to be the ultimate and most up to date diving guide to the British Virgin Islands. It provides detailed dive site descriptions, depths, and location of some of the more popular sites in the BVI (and the illustrations are awesome). You may find it to be a very useful guide for planning your underwater explorations:  
"The Guide to Diving & Snorkeling in the British Virgin Islands"
Now that you have the inside track on dive sites in the BVI, pack up your gear, book a flight, and join Sea Dog Divers as we discover "natures little secrets" in the British Virgin Islands……