Explore the exotic beauty of the "Big Island" of Hawaii aboard the Kona Aggressor II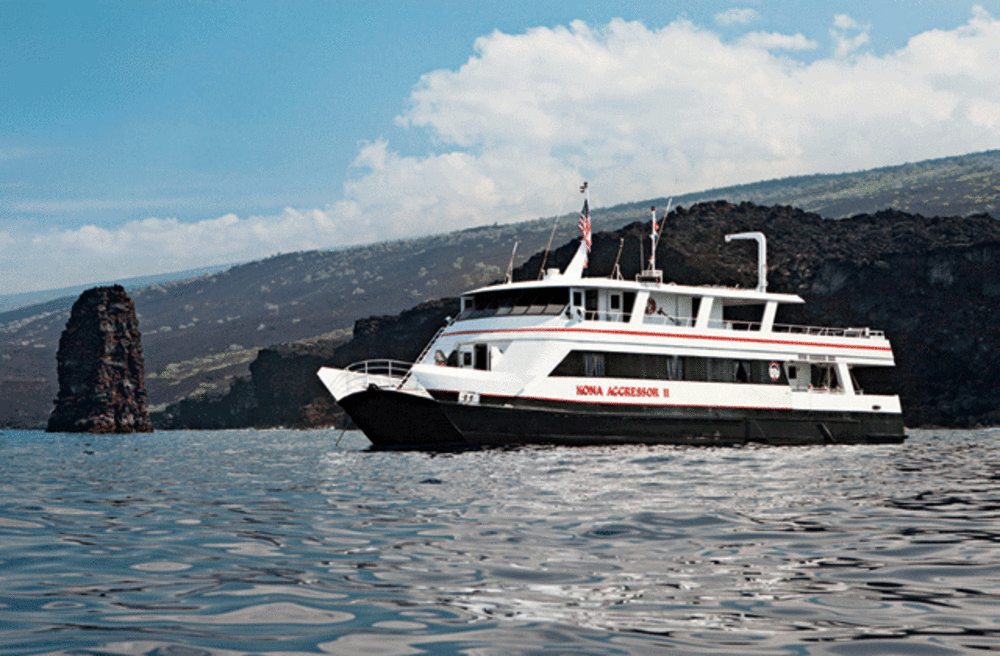 The Big Island's volcanic underwater topography is a diver's wonderland. Lava tubes, bommies, arches and huge craters like "Au Au Crater," create a spectacular backdrop for Hawaii's many indigenous species of Butterfly fish. Photographers will delight in the many subjects like Spanish Dancers, turtles, mantas, dolphin, and frogfish. More than 20% of the Hawaiian reef fishes are found nowhere else in the world, including countless Butterfly fish and Angelfish.  
Kona is located on the Big Island of Hawaii.  The historic Kailua Village (Kailua-Kona) is a beautiful seaside town located 5 minutes south of the Kona International Airport. Once a sleepy fishing village and retreat for Hawaiian royalty, it is full of restaurants, shopping and rich Hawaiian culture. From the Hulihee Palace and the Mokuaikaua Church to the King Kamehameha's Kona Beach Hotel Courtyard by Marriott, it is all very close to the Kailua-Kona pier where guests board the Kona Aggressor II.
The Kona Aggressor II is an 80 ft long catamaran with a 28 ft beam and operates out of downtown Kailua-Kona. The Kona Aggressor II offers a week of hassle-free diving along the western coast of the island at favorite sites like Paradise Pinnacle, Tubestria Tunnel, The Hive, Turtle Pinnacle and Rob's Reef. The yacht ventures far from the reach of day operators to beautiful South Point, the southernmost tip of Hawaii and the United States, weather permitting. With lava flows in the background, divers suit up for a week of spectacular diving.  Excellent snorkeling is available for non-diving passengers.
Diving begins Sunday morning and ends Friday afternoon when the Aggressor returns to port. Sunday through Thursday there is unlimited diving throughout the day and a night dive each evening.  Friday a half-day of diving is offered. Guests will fly into the Kona International Airport (KOA) on Saturday.  Taxis are readily available at the curb in front of all baggage claim areas.  The Kona Aggressor II operates out of the downtown pier in Kailua-Kona, Hawaii.  This is a 20-minute drive from the airport.
The Kona Aggressor II will dock Saturday afternoon at the Kailua Pier between 5:30-6:00 pm to greet and board passengers.  After all guests are aboard, the yacht departs for its night anchorage to prepare for diving Sunday morning. After a full week of diving, the Kona Aggressor II returns back to Kailua-Kona Friday afternoon after lunch. Guests may spend the afternoon shopping, sightseeing or just relaxing onboard until the evening cocktail party hosted by the crew. After the party, everyone will dine at a local restaurant. Checkout is Saturday morning at 8 am. A crew member will assist guests with taxi arrangements to the Kona Airport or a local hotel Saturday morning.
All staterooms are air-conditioned and fitted with private toilets, showers, sinks, hair dryers and robes. Beverages (alcoholic and non-alcoholic) are complimentary while onboard. Breakfast (cooked to order), buffet lunch and an elegant meal at dinner with tableside service are served in addition to fresh mid-morning and mid-afternoon snacks.
Exotic Hawaii is well known for its diving, beaches, waterfalls, gardens, surfing, and active volcanoes, so you may want to extend your stay in this paradise either before or after our private charter.
Space is limited to only 14 guests, so contact us ASAP with questions and to arrange your deposit and reserve your place! 
email: Sea Dog Divers
We strongly recommend dive accident & trip insurance!